Cork can be used for more than wine stoppers and material for your inspiration board — it can be a flooring material that ties everything together in your home design. Learning the pros and cons of cork flooring will show you why this all-natural material is making a well-deserved comeback in many homes worldwide.
What Are the Pros and Cons of Cork Flooring?
Check out the pros of cork flooring below.
It Looks Good
Cork brings warmth to a room the same way wood does. It has an earthy, natural feel that will make you appreciate any space in your home. You can spruce up a minimalist leisure room with cork flooring or introduce a more rustic atmosphere to your bathroom for an inviting and relaxing look.
It's Comfortable
Cork is an excellent flooring choice because it is naturally flexible. Cork absorbs your feet's energy instead of redirecting it back, dampening the force and reducing the stress on joints and muscles. Have you ever wondered why footwear giant Birkenstock still uses cork? This is the primary consideration — it's comfortable and easy on the feet.
For this reason, living rooms with cork flooring offer a healthier alternative to traditional materials like stone and wood. If you're a homeowner used to hosting people for parties, you'll appreciate the wonders of having a cork floor.
Your kids will also appreciate the softness of cork floors since it dampens the impact of slips and falls. Prioritizing fitting the space to the user is a great way to improve the ergonomics of any home.
It's Fire-Resistant
There's a reason why many construction companies use cork for insulation — it's a natural fire-retardant material. The natural composition of cork makes it resistant to fire — when it does burn, it doesn't produce flames. If you're still not convinced, NASA trusts cork's insulation and fire-retardant properties so much that it used it in its aircraft.
It's Durable
Aside from its flexibility and ability to reduce joint tension, cork is also known for its durability. Cork can revert to its original state after carrying heavy loads like furniture and appliances. The elastic and compressible qualities of cork make it ideal for flooring, as it can return to its original thickness and form after removing the load.
It's Easy to Clean
While many believe it's challenging to clean cork, that's simply not the case nowadays. Modern technology and manufacturing processes have transformed cork into an easy-to-clean alternative to traditional flooring material. Newer cork flooring typically has a laminate layer to protect it from spills and dirt.
It's Waterproof
Its waterproof properties are a significant part of the pros and cons of cork flooring. Cork's natural composition prohibits water from seeping into the material. However, you need to be mindful when choosing cork flooring for different parts of your home.
Some cork tiles or planks contain high-density fiberboard material that can absorb moisture. Clean any big spills quickly if you choose cork flooring containing that material.
Also Read Why Tile Flooring Is A Great Choice For High-Traffic Areas.
It's Eco-Friendly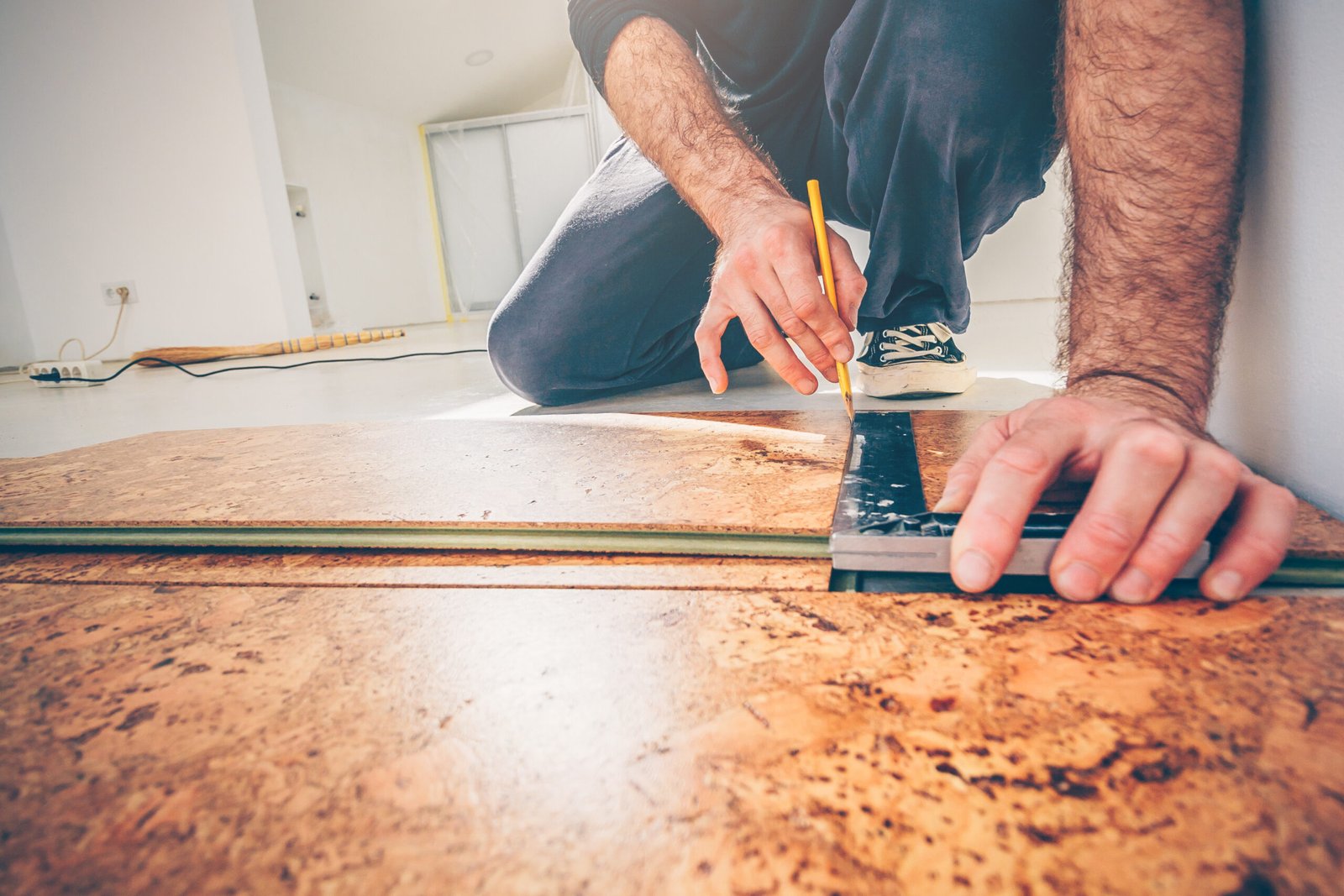 Cork trees can be harvested safely up to 17 times in their lifetime. Cork plantations still use manual labor to ensure the trees remain unharmed during harvesting. Modern click planks also click together and stay in place, doing away with unsightly glues used back in the day.
Cork is also a highly sustainable product. It's easily recyclable, and any leftovers from the manufacturing process can be used in biomass applications. Using cork is a sound investment for any home and the environment.
It's Noise Dampening
Cork does more than absorb energy and enhance the look of a space. It can also make your home quieter. Cork's natural honeycomb composition makes it ideal for dampening noise.
It absorbs sound waves in busy spaces, making it ideal for high-traffic areas like walkways and entertainment rooms. It's also great for bedrooms, as cork can keep the noise out from other spaces in your home.
It Will Keep Your Feet Warm
With cork flooring in, carpets and rugs are out. Cork floors retain their optimal temperature year-round thanks to their natural composition, making them an excellent choice for bathroom flooring. Your feet will thank you, especially in colder months.
It's Resistant to Insects, Mold and Mildew
Cork contains a natural substance called suberin that keeps insects away and inhibits the growth of mold and mildew. The waxy substance found in the inner walls of cork cells makes it a fantastic material for many purposes beyond flooring.
While cork is shaping up to be a fantastic material to build your dream home with, it's far from perfect. Here are some of its drawbacks that you should consider.
Cons of Cork Flooring
Now, consider some potential disadvantages of cork flooring.
It Will Scratch and Fade
Like many natural building materials, cork will scratch with constant or heavy use. Furniture legs and heavy appliances will leave their marks and even nick some surfaces. Exposure to the sun will fade cork flooring, but hardwood floors also suffer the same wear and tear.
It May Require Frequent Maintenance
Cork floors are softer compared to other flooring materials. It's part of the pros and cons of cork flooring, but you can remedy that with regular maintenance. Cork floors can be refinished by sanding and re-staining them to remove unsightly stains, scuffs and marks.
It Can Be More Expensive With Installation
If you want perfect cork floors around your home, you need to find a professional you can count on. Cork floors can be challenging to install, but you'll love the results once you get it right. Splurge a little with proper installation, and you and your family will enjoy comfortable cork floors that are easy on the feet and the eyes.
Tying It All Together With Cork Flooring
Make your home look and feel like a dream with a simple switch in flooring material. Cork floors will surprise you with the warmth and comfort they can bring. As people always say, don't knock it until you try it.