We don't know about you, but bugs give us the creeps. Yes. Those little black creatures crawling around in search of god knows what seems just so scary and disgusting all at the same time. While there isn't much that can be done regarding such tiny bugs, you can always keep yourself informed about all the different kinds and how to keep yourself safe from them. It isn't even necessary for you to have a huge garden or live surrounded by nature to come in contact with such bugs; they can also be roaming around in your apartment in the city.
Even though most of these house bugs cannot even harm you, having a bunch of them crawling or flying around makes the whole space seem unclean and dirty. So, you spot certain bugs during certain times of the year, depending on factors like heat, humidity, and rain. Others are just there all year round. Regardless, it is important to look a little deeper into all the different kinds of insects and bugs, what draws them in, to what extent they can cause harm, and how to get rid of them.
While there are dozens of different kinds of house bugs flying or crawling around in your home, we have compiled some of the most common and widely spotted ones around households like yours. Here is a complete guide educating you about all you need to know about house bugs, their identification, prevention, and control.
Different Types of House Bugs
1. Fruit Flies
Appearance: Fruit flies are unusually small, light brown flies, which hardly measure up to about 1/8 of an inch. These are further divided into two major types; the red-eyed fruit fly and the dark-eyed fruit fly, which is also a physically distinguishing trait.
Where to spot: Their name gives this one away. Fruit flies mostly hover overripe, rotting, or overripe fruit and produce. Fermented foodstuffs like beer, liquor, and wine also draw them in. They have been seen multiplying themselves in moist dirty places such as drains, garbage disposals, trash cans, and mop buckets.
Harmful or not? These flies are more annoying than they are harmful. They can easily become a nuisance when they multiply in number and are found in hundreds hovering in your house. They can carry diseases and bacteria from one place to another, so it is very important to deal with a fruit fly problem if you have one.
Food must be stored in airtight containers or refrigerators, washed thoroughly whenever used, drains and garbage disposals must be cleaned regularly, and there must be an avid lookout for any garbage or food waste piled up around the home.
2. Bed Bugs
Appearance: Big as an apple seed, bed bugs can be anywhere from ⅛ – ¼-inch in size. When it comes to color, they can have a reddish-mahogany to even a light brown color, depending on when they last fed (given that they feed on blood)
Where to spot: As their name suggests, these house bugs will likely be found on your bed or mattress. Bed bugs are nocturnal insects, and hence they come out mostly during nighttime and feed on resting people's blood.
Harmful or not? Yes, these and their bites can be harmful and irritating. While bed bugs do not transmit diseases to humans, their bites can cause irritation, redness, itching, and even swelling. While the bites do not leave any mark as such, they can still be uncomfortable and make you lose a ton of sleep.
3. Cluster Fly
Appearance: If you can easily identify a regular fly, cluster flies look similar or larger than them. They are about ⅓ inch long, larger than standard house flies. They have a dull-gray and black body with golden-yellow hairs, giving them a golden sheen.
Where to spot: Like most insects, cluster flies also creep in for outlasting winters. Attics, under siding, and around windows and corners are where you can most likely find them. They can also gather between walls and find a way out in openings in window frames and electrical fixtures.
Harmful or not? These are harmless, do not bite, so they do not have any venom, and they do not transmit diseases either. Rather than giving your space a shabby feel and leaving dark colored spots on your windows, they do not cause any other kind of harm.
4. Cockroach
Appearance: These gross insects have all the looks that justify all the despise they get. These are big, the normal local special being roughly over two inches long and the tropical ones even bigger. They have six legs and two antennae, and some breeds even have wings, although they don't all use them to fly.
Where to spot: Roaches can be found in many different spots around the house. From bathroom drains to kitchens like cupboards and cabinets, they easily find their way around your home. Laundry rooms, basements, and drains are other hotspots for cockroaches, so be sure to check them.
Harmful or not? Cockroaches do not bite. Hence any bite or sting-induced conditions are not to worry about. Although they do transmit diseases and bacteria from one place to the other, ingestion can harm you. They have also been known to trigger asthmatic conditions in some because of the saliva they secrete.
5. Gnats
Appearance: Gnats are tiny brown bugs, and have long, thin bodies. They're about a quarter of an inch long and look similar to small flies.
Where to spot: Gnats are attracted to unsealed produce, fresh flowers, houseplants, food spillage, and open or overflowing garbage cans. Gnats live and reproduce in places like sink drains since that's where a lot of waste food residue can be found. So dirty kitchen sink drains provide them with the perfect food, water, shelter, and breeding site.
Harmful or not? Gnats are known to bite and carry infectious diseases, so seeing them in your house is an immediate red flag in itself. Gnat bites can cause a life-threatening allergic reaction called anaphylaxis which does require immediate medical attention.
6. Houseflies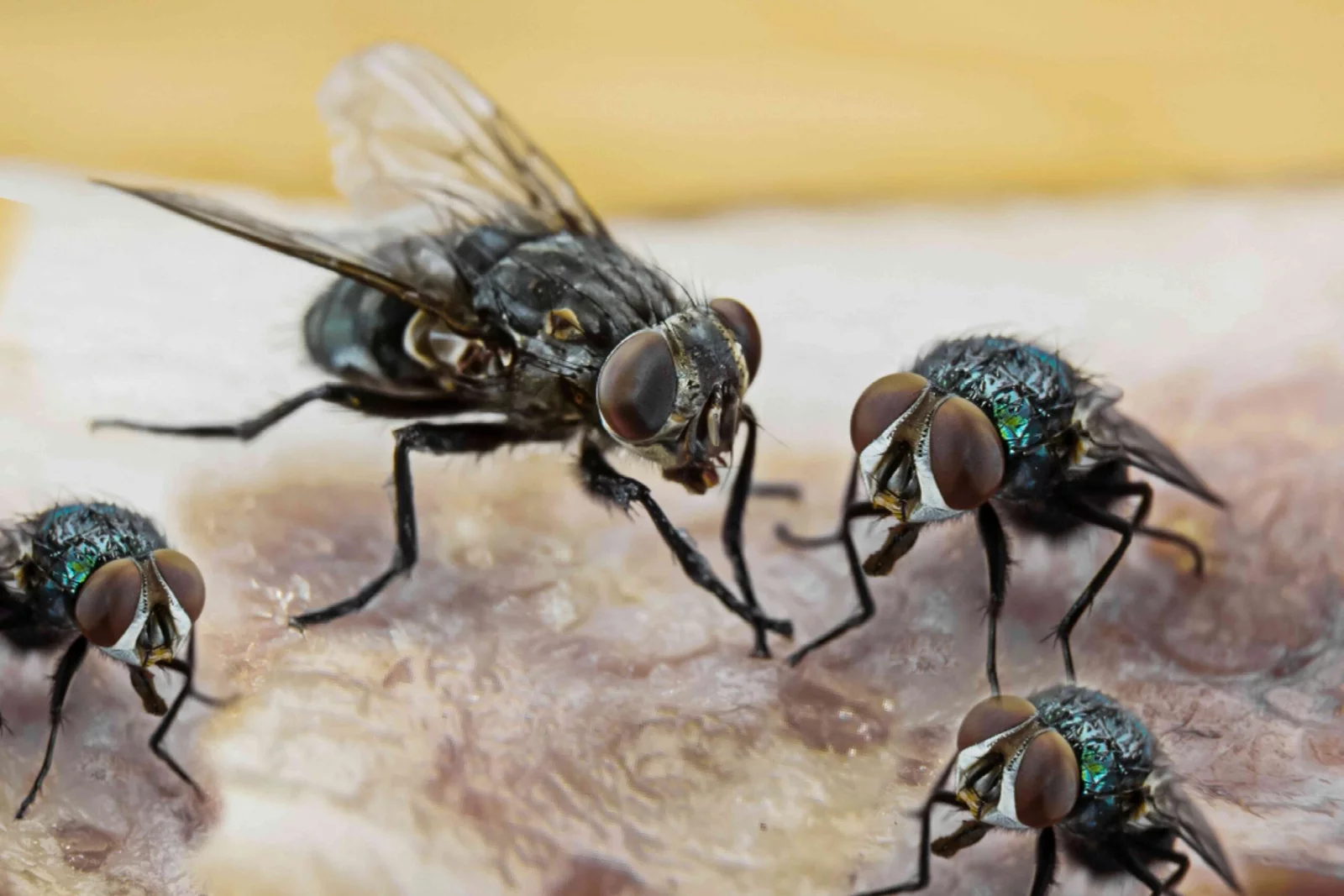 Appearance: House flies are 1/8-1/4″ (4 to 7.5 mm) long, usually gray, and have four black stripes on their thorax.
Where to spot: House flies can be found indoors and outdoors during the warm months of the year and are less seen during colder times. House flies are normally attracted to areas with decaying organic matter, dead animals, or plants.
Harmful or not? House flies are disease carriers and are also known to bite in some cases. They can spread diseases such as food poisoning and dysentery by carrying them from one place to another. Some flies also give painful bites and feed on the blood of humans and other animals.
7. Wolf Spider
Appearance: They are usually black, gray, or brown and have a hair-like extension all over their body. They can be big, too, measuring up to an inch and a half even at times.
Where to spot: These spiders can generally be spotted between boards, stones, firewood, and siding since the female spiders need a protected spot to lay eggs; you can look out for these in your basement, shed, or garage, where the spider can not only lay its eggs but can also prey on other existing insects.
Harmful or not? Wolf spiders are harmless, as they primarily choose to hide rather than attack, but if they feel threatened, they can bite you back, so be careful.
8. Cellar Spider (a.k.a. Daddy Long Legs)
Appearance: Cellar spiders are identifiable by their long, very thin legs, extending to even two inches. Their body is about 1/4-5/16 inches long and is essentially darker in color.
Where to spot: Look out for these spiders in all the corners of your house. They are mostly found webbing; hence the probability of them being in a secluded corner of your home is very high. Basements, attics, or other lesser lively parts of your home are supposedly home to cellar spiders.
Harmful or not? These spiders do not bite under any circumstances whatsoever and are not venomous. Other than constantly webbing in different parts of your home, they do not cause any other major kind of harm.
9. Field Cricket
Appearance: These are the typical crickets you often spot in your garden or lawn. They are black and brown, between 1/2 to 1 inch long in size. They have six legs, long antennae, and antennae-like appendages called cerci. They also have hind wings, which allow them to fly around.
Where to spot: While they are mostly spotted outdoors, they easily enter homes through windows, doors, and cracks in the walls when the weather is chilly. Their famous chirping gives them away, and you can easily locate them by following that chirping sound around.
Harmful or not? Harmful, no. Damage-causing, yes. Field crickets do not bite, sting, or hurt humans or pets. But they can cause significant damage to your clothes, drapes, curtains, and wall coverings by staining them with feces or feeding on them, leaving tiny holes here and there.
10. Odorous House Ants
Appearance: These ants are tiny, about 1/16 to 1/8 inch long. Upon being crushed, they release a bad rotten coconut/banana-like odor, giving them their name.
Where to spot: Odorous house ants are attracted to sweet things, most likely foodstuff. Their prime spots are water and food sources such as garbage cans and kitchen sinks or counters. Another thing that they come in searching for in homes is heat and warmth, which can also place them in cozy voids near pipes or heaters.
Harmful or not? House ants cannot and would not harm you, but they can ruin your groceries, so be wary of that. Be sure to store all your grains in airtight containers and all things sweet far away from where these ants could reach them.
11. Beetles
Appearance: Beetles have a head, thorax, abdomen, and six legs. Their bodies are very solid and tough, with distinctively powerful jaws. The diversity of structure among adult beetles is as great as the size range, as they can size anywhere between a fraction of a millimeter to more than 8 inches.
Where to spot: These house bugs can be found in and around rugs, furs, clothing, leather, upholstered furniture, animal hides, carpeting, cracks, crevices, baseboards, seat cushions, kitchen pantries, etc. They are drawn to human and animal hair, dead insects, and lint, so anywhere this matter collects will surely be a hotspot for beetles.
Harmful or not? Beetles are not harmful or dangerous as such. While certain species, such as Longhorn and root borer beetles, can bite humans, their bites are not venomous or as harmful and can be easily treated at home. Otherwise, beetles do not attack people or suck their blood.
12. Lady Bird Beetle
Appearance: These are one of the most spotted ones around our homes. Ladybugs are tiny, about 1-10mm long, oval/round in shape, and brightly colored with black spots. Colors could range from reds to oranges to yellow, but they all look extremely similar.
Where to spot: While ladybugs are easy to find anywhere around your home, they are most prominently found in corners and crevices around the house. Cracks around windows and door frames, attics, wall voids, and external sidings. Autumn is the time when they are spotted the most, so September to November, ideally, when the temperature drops, and like all insects, they also need to find a cozy, warm space to spend the winters.
Harmful or not? Ladybird beetles can trigger allergies like eye irritation to even asthma for some because of the stinky, yellow secretion they let out. These beetles can also give you a pinch-like bite that is not poisonous or harmful.
13. Carpenter Ant
Appearance: These ants are extremely popular in northern parts of America. Two types of carpenter ants further divide into; wingless and those with wings. Wingless types grow between ¼ to ½ inch, while those with wings can grow up to 1 inch. They are shiny, usually black or dark brown, and known for their narrow waists. They also have jaw-like appendages, which they use for chomping.
Where to spot: Results of their sharp chomping teeth are often seen on the wooden structures of your home. Their prime spots, although, are rather moist and decaying areas where there could be exposure to water leaks, condensation, or poor air circulation.
Harmful or not? These do bite. Carpenter ants can break your skin barrier and inject an irritant called formic acid, leading to an allergic reaction. Although their bites are venom-free if you have bit, clean and disinfect that area thoroughly to avoid any infection.
14. Asian Camel Cricket
Appearance: As their name suggests, these crickets have a humped back, making them different. They are light brown, tan, and dark brown, have very long antennae, and a body 1/2 to 1 1/2 inches long.
Where to spot: These crickets prefer dark and secluded places; hence, basements and attics are often their picks.
Harmful or not? Camel crickets do not bite and are not a threat to humans or pets. They can reproduce quickly, which makes getting rid of them quite a hassle, but other than that, they are not harmful to us.
15. Western Conifer Seed Bug
Appearance: These house bugs have a stink bug-like shape, reddish brown, with a bright yellow-orange underside. They have significant black patches and are known to grow up to 3/4 inch long.
Where to spot: Western conifer seed bugs crawl into your home, seeking shelter for the colder seasons. Baseboards, window and door moldings, openings for electrical outlets and fixtures, and openings for heating or cooling vents are all probable spots to find these seed bugs.
Harmful or not? They do not bite, sting, or cause any damage, but they do gather in large numbers at times, making things unclean and uncomfortable.
16. House Centipede
Appearance: Centipedes have 4 to 152 millimeters long, segmented, flattened bodies with one pair of legs per body segment. It is brown or reddish-orange and has venomous fangs for attacking its prey.
Where to spot: Their place of choice is generally damp, quiet places in the house, with less coming and going. Cellars, closets, bathrooms, and attics are some spots where you can find house centipedes.
Harmful or not? While some centipedes can bite, they are not poisonous or harmful. Their bites can lead to some swelling and pain in those areas, but that is it.
17. Silverfish
Appearance: As the name suggests, the silverfish stands out because of its silvery scales and three tail-like appendages from its abdomen. Its antennae are as long as 12mm and can grow up to the length of its body.
Where to spot: Silverfish feed on starch-rich food and can destroy books, papers, wallpaper, and more, so be sure to look there. Other than that, they prefer high-humidity environments, generally indoors in concealed, temperature-controlled areas such as bathrooms, attics, and basements.
Harmful or not? These insects are just plain gross, but other than that; they do not have any other major harmful factor to be careful about. They don't bite, sting, or inject venom, so you are as safe as it gets.
18. Brown Stink Bug
Appearance: As big as almost 2 cm large, brown stink bugs will surely not miss your eye. They have a marble-like pattern on their back and a set of wings visible from the top. Brown in color, they have white bands on their antennae and legs, differentiating them from other similar species.
Where to spot: These house bugs can also be spotted mainly during autumn, usually September through October. These bugs go out in large groups to find a safe, warm place as the weather outdoors gets cooler. They can easily enter your home through windows, door cracks, vents, siding, shutters, and loose sidings.
Harmful or not? Stink bugs can only harm the smell around you; by giving off that horrible odor, they release. They do not bite or harm humans or pets, but they can cause substantial harm to your garden.
19. Earwig
Appearance: Earwigs are about ¼-1-inch-long in size and have elongated flattened bodies. They vary in color from pale brown with dark markings to reddish brown to black. Earwigs have six legs and threadlike antennae about half their body length.
Where to spot: Earwigs are mostly found in wet, damp places, such as wet basements, over-watered potted plants, and bathrooms.
Harmful or not? Earwig bites can leave two red pinch marks. While most cannot break the skin, some can succeed and cause small bleeding. Any such pinch site might become red and swollen and can cause mild discomfort, which passes quickly.
20. Termites
Appearance: Termites can be cream, white, orangish-brown, amber-colored, dark brown, or even smoky gray-colored. While their head could be light-colored, their bodies are generally more opaque and darker.
Where to spot: Termites are found in soil or dry wood above ground level. These wood-boring insects live in walls, bathrooms, furniture, logs, and other wood sources in or near the home.
Harmful or not? Termites bite and sting, but their bite wounds are not harmful. They are not toxic or venomous and carry no diseases harmful to humans or pets. Although, termites have been known to trigger people's allergies and breathing problems like asthma.
21. Springtails
Appearance: Springtails are mostly dark-colored, brown, gray, black, white, or even brightly colored. They do not have wings and cannot fly. But they are known to be able to jump up to several inches using a special forked part of their body.
Where to spot: Springtails are mostly found indoors. They have a certain liking for spaces with higher moisture and condensation. Plumbing leaks in bathrooms, basements, and kitchens are some of their hotspots. The soil of overwatered houseplants is another place where you can spot them hiding.
Harmful or not? They do not harm humans or pets or crawl up on them. Very often, they are found in large numbers in homes which in itself becomes a cause of a nuisance. So in case you have been spotting springtails around your home, it is most likely that there is a pretty high moisture level in that space.
22. Rice Weevils
Appearance: Rice weevils are red-brown to black with wings that allow them to fly. They also have a unique "snout" or nose, 1/3 of their body length. They have round pits on the thorax and four yellow or red spots on the corners of their forewings.
Where to spot: Rice, or as they are also called grain weevils, are usually found wherever you store grains in your house. Wheat, oats, rye, barley, rice, and corn are some of their favorites. They can also be found infesting beans, birdseed, sunflower seeds, dried corn, pre-packaged macaroni, and spaghetti.
Harmful or not? Rice weevils are one of the most harmless insects to us human beings. They do not potentially harm people, houses, furniture, clothing, or pets. They are not known to bite or sting, or carry diseases. The destroyed seeds infested by them are the only damage they cause.
23. Mites
Appearance: Mites are microscopic insects barely 1/4 to 1/3 millimeters long. You can only see them clearly under a microscope or magnifying glass, roughly giving them the outlook of a small white spider.
Where to spot: Mites can be found almost anywhere around your house. Their minute size makes it nearly impossible to identify them, and they can often get them mistaken for dust.
Harmful or not? Mites are rarely seen transmitting diseases among humans, but they do indirectly affect our health. They can be a simple nuisance, leading to certain skin allergies and irritation.
Read more: Strange Tiny Red Bugs In Your Window? Everything To Know!
Conclusion
While any kinds of house bugs are just gross and annoying, many also play a passive role in transmitting disease and bacteria around you. While we can easily brush off the presence of ants and flies in the house, prolonged ignorance of these insects can lead to several infections and diseases. When younger children with weaker immunities fall sick quickly, and we don't pinpoint a single factor responsible for it, try to look more closely at the environment around them.
Hygiene is essential, and any insect infestation hampers that. If you know the insects crawling around in your house, do not take it lightly. Do the needful. There are a ton of DIY hacks to tackle insects around the house, and if you feel like the infestation is too large to be dealt with by you on your own, you can always call in professionals and have them deal with the insects. The cleaner your environment, the better your health and lifestyle will follow for you.
Read more: 12 Common Types of Tiny Black Bugs in House Near Window
FAQs
Why am I getting so many gnats in my house?
Gnats are attracted to unsealed produce, fresh flowers, houseplants, food spillage, and open or overflowing garbage cans. Chances are that you have a lot of waste food residue in your home, which is inviting in these insects.
Tiny black bugs look like poppy seeds.
Tiny dark bugs that jump and look like a poppy seed might be flea beetles. Flea beetles can range from 1.5 to 3 mm in length, making them almost as big as the size of poppy seeds.
Why are there so many gnats in my house?
Gnats are attracted to unsealed produce, fresh flowers, houseplants, food spillage, and open or overflowing garbage cans. Chances are that you have a lot of waste food residue in your home, which is inviting in these insects.
How do you get bed bugs in your house?
Bed bugs are known to be able to travel from infested areas to other places. They can come by clinging onto luggage, purses, backpacks, or other items.
How to get rid of stink bugs in the house?
Combine hot water, dish soap, and white vinegar to eliminate stink bugs. Fill a spray bottle with 2 cups of hot water, 1 cup of white vinegar, and 1/2 cup of dish soap, then spray directly on the bugs.