We wish to have a beautiful backyard with a unique visual appeal and there can't be a better option than a patio, which is a timeless trend to go for a contemporary look.  Modern concrete patio ideas give multiple design options that can never go wrong in adding charm. Concrete patios are preferred by homeowners because they provide a strong base for garden furniture, are affordable, and sustain minimum maintenance.
Read more: 7 Tips to Beautify Your Deck

Read more: Tips on Creating the Perfect Garden for Relaxation
Modern concrete patio ideas add value to the property while creating additional space to spend time with friends and family. Are you looking for patio ideas to renovate the outdoor space? Here are some inspirational ideas that will match your homes.
Importance Of Functional And Stylish Patio Spaces For Modern Living
Modern concrete patio ideas are great way to elevate the look of your outdoor space due to several factors.
Effortless maintenance.
It can withstand extreme weather conditions.
It won't warp or rot.
No yearly sealing is required.
Seamlessly integrates exterior and interior space.
It is affordable.
It can be formed into any shape and design.
The design versatility makes it more adaptable than before.
Various patterns are available, such as stencil, stamped pattern, and engraved.
It is invulnerable to termite infestation and wood rot.
Concrete patio saves lumber, making it an environment-friendly option.
The aesthetic adds value to the property.
Different Modern Concrete Patios Ideas
Polished Modern Concrete Patio Ideas
The polished patio extends a cohesive and modern look to the backyard. Placing some plants adds an element of character to the outdoor area. The polished concrete patio strikes a balance between simplicity and elegance. The polished concrete patio is preferred as it is affordable and easy to install.
Stamped Concrete Patterns
Stamped concrete patio is one of the most affordable and popular patio materials for building a hard surface patio. This pattern resembles the real texture of sale, wood, brick, cobblestone, and flagstone. 
Colored Concrete Accents
The colorful modern concrete patio ideas are mesmerizing and classy—colors like black and brown light up the backyard with elegance and freshness. A rainbow-striped floor on a patio is a unique combination you can opt for.
Exposed Aggregate Finishes
A modern concrete patio ideas with an exposed aggregate finish is a great way to add uniqueness to the patio. It is preferred by homeowners as well as for commercial purposes because of the following features.
Looks splendid
It can be customized as per the style preference
It's anti-slip, making it a safer option for family and friends
The feature of aggregate finish hides the patio floor imperfections occurring over the period
It's durable, can withstand extreme weather, and is resistant to foot traffic
It's affordable
Modern Concrete Patio Furniture
The plain concrete patio provides a neutral base to keep some colorful furniture. A stained wooden sofa with a matching center table adds a vintage look to the backyard, and white furniture matches perfectly with the geometric pattern in the white and black floor or a built-in sofa. Try different color combinations, considering the floor texture and tone.
Innovative Lighting Solutions
Lighting elements can easily soften the cool space. Try floor lights, string hanging lights, or lanterns to add drama to the exterior area. It's a beautiful modern concrete patio ideas to uplift the look.
Greenery and Landscaping
Pavers give an opportunity to display creativity. Light up the backyard with beautiful shrubs around the patio for a gorgeous ambiance. A grass yard is another way to add visual interest.
Geometric Patterns
Play around with patterns in the concrete patio. Geometric-patterned tiles in contrasting colors will add energy to the space.
Concrete Planters and Benches
In-built concrete benches and planters are a long-lasting option you can have in the backyard with no maintenance. It's an environment-friendly and affordable option. 
Sustainable Concrete Elements
For sustainable concrete elements, make use of all little waste and recycled materials. To ensure a sustainable environment, the entire process needs to be followed accordingly.
Glass Railings
There are umpteen benefits of glass railings, ranging from style to functionality. It is another way of seamless transition of interior style to the exterior area through sliding or french doors. A glass panel separation is also used to give a feeling of a united indoor and outdoor.
Concrete Pathways and Stepping Stones
Create concrete pathways effortlessly in the patio, making it a focal point. There are numerous ways to select the pavers, such as to maintain the gap or align it vertically or horizontally, depending on the size and preferred style.
Dining space on the patio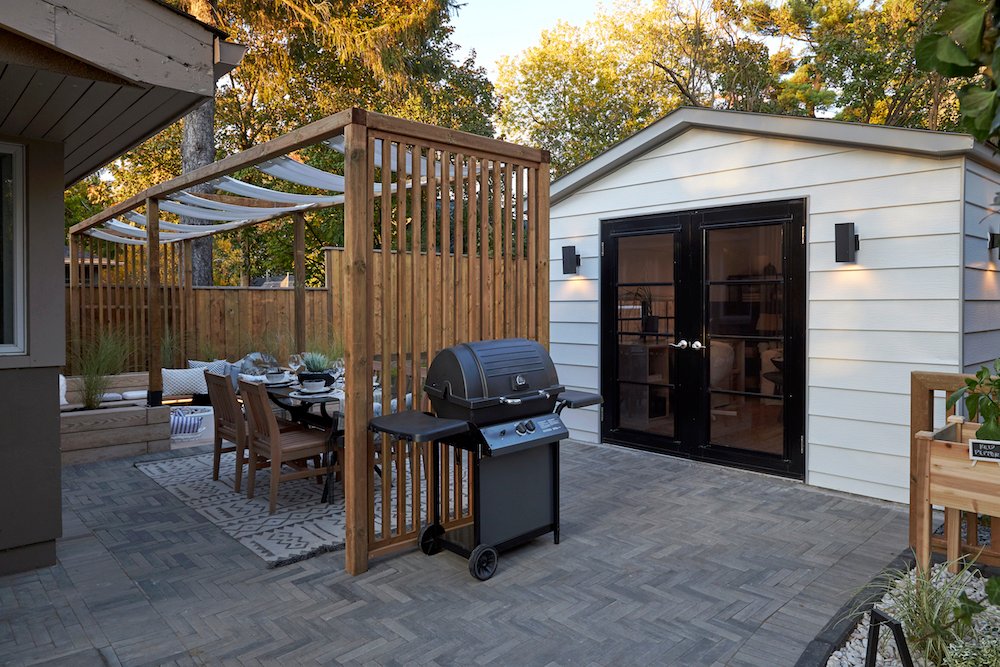 Create an inviting dining space on a concrete patio for a sumptuous dining experience with family and friends. 
Zen vibe patio
Create a modern concrete design and stylish zen-like vibe patio for entertaining gatherings. Your friends will surely love to relax here.
Spacious modern concrete patio ideas
Make the spacious patio a hang-out place with distinct zones for the kitchen, dining, bar, and living area. You won't even feel like being in an outdoor space. 
Pop of sophistication with rugs
Add texture and style to the concrete patio with colorful and elegant rugs. It's an inexpensive way to elevate the plain and simple concrete look patio to a beautiful and charming space.
Built-in spa
Another great way to retain privacy and get a crystal clear view of the backyard. Enjoy the pool and relax!
Patio with a beach view
A beach-view concrete patio looks stunning and panoramic. No place can be as relaxing as this patio.
Conclusion
Modern concrete patio ideas can easily enhance the look of patios from conventional to contemporary concrete patio. All you need is a little planning and selecting the right material and design, considering the size of the space and budget.
FAQs
What Is The Best Shape For A Concrete Patio?
It's a subjective question that can be answered based on certain facts. The best shape is one that suits your backyard's shape and size, the intent with which you create a patio, and your interior style. If it matches all, that's the perfect shape for your patio.
Is It Cheaper To Do A Concrete Patio?
The cost of a concrete patio depends on factors such as the material used, the place from where you source the material, labor cost, and the type of finishing you want. However, usually, basic work will cost around $ 500 for a small backyard patio.
Is A Concrete Patio Cheaper Than A Deck?
Yes, a concrete patio is cheaper than a deck in terms of installation cost and maintenance costs. A patio can be made at a cost of $4 per square foot, whereas a deck involves a minimum cost of $6 per square foot. However, both have pros and cons, so consider all the pros and cons and decide.