Having a beautiful, affordable, and functional backyard is all we want for the outdoor space to enjoy with friends and family over the weekend or on special occasions. There are multiple choices when it comes to backyard designs,  where you would require guidance to choose the best one. If you are looking for ideas to refurbish your backyard, you have landed on the right page. In this article, we have covered low budget backyard designs with gravel to help you enhance the look of your backyard in an easy and affordable way.
Read more:
18 Inspiring Modern Concrete Patio Ideas For Your Home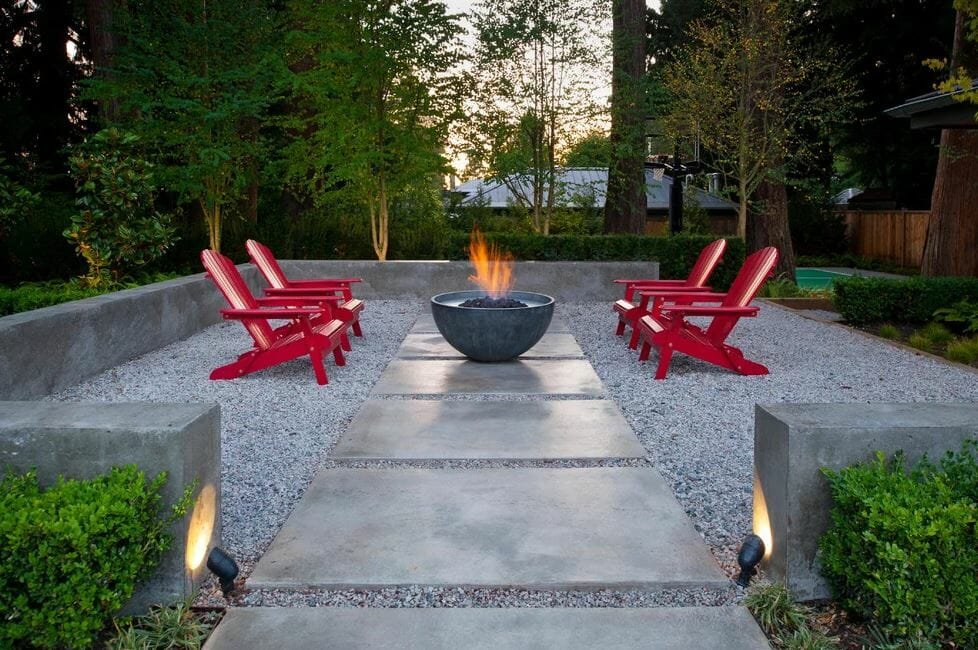 Advantages Of Gravel In Backyard Designs
There are innumerable advantages of low budget backyard designs with gravel. Some of them are discussed in the following paragraphs.
It is easy to install ideas. You can opt for DIY. 

More affordable than pavers and concrete.

It is eco-friendly because it does not have harmful chemicals.

It helps preserve groundwater with the help of a porous surface for rainwater drainage.

It is available in various colors and textures.

It adds charm to the backyard effortlessly.

It suppresses weed growth.

It helps in hiding imperfections on the backyard surface.

It's effective in establishing firebreaks, making it an ideal choice for fire-prone and dry areas.

It blends well with any backyard theme. The compatibility is unmatchable.
How To Choose The Right Type Of Gravel
Selecting the low budget backyard designs with gravel for your backyard is essential. It involves a variety of factors, such as the type of gravel, the place where you want to use gravel, color, and many more factors. Some of them are mentioned in the below lines.
Decide the place where you want to use gravel
Gravel can be used for modern as well as conventional-style gardens due to its versatile features. You can easily use it around the edges, create unique pathways and seaside gardens, or any other style. For uniform design patterns in the garden, use gravel as a landscaping material.
Choose a suitable gravel color
The ideal gravel color is the one that compliments other items in the garden, such as the fabric color of the garden furniture, the color of natural stones, exterior decor style, etc. 
Decide the size of the gravel
Gravel size depends on the usage. For footpaths, medium-sized gravel is better because the tires can move smoothly, and you can comfortably walk on it. To fill the irregular garden borders, use larger stones. 
Choose the right gravel stone
Select the gravel stone patio in the heavy traffic area. For a normal garden, any gravel stones can work, whereas for heavy traffic, especially where vehicles are used, harder stones will best suit. 
Which type of gravel suits your garden?
There are three types of stones to choose from: gravel, resin-bound gravel, and self-binding gravel. 
 Loose gravel – It is best suited for a country garden. It's an easy patio and an affordable option for pathways. 

Resin-bound gravel – It is ideal for urban gardens. It can be used on an existing or new base.

Self-binding – This goes well with both conventional and modern garden types. This looks natural and can be used on slopes.
Consider the budget
The final decision while selecting the gravel depends on how much budget you have set aside. Plan everything, considering the amount you plan to spend.
Low Budget Backyard Design Ideas With Gravel 
Summer patio
To soak into the sun, create a gravel patio with a privacy screen and Scandinavian furniture. The sleek and modern look backyard will transform into your most sought-after space in the outdoor area.
Minimalist dining area
This small backyard dining area is easy and affordable to build. Using bricks, create an outer edge, and with some cardboard or heavy plastic, make a simple dining area on a level lawn to enjoy family time.
Display your artistic creativity
Give some artistic touch to the small seating area on the patio with wooden planters, vintage-look lamps, wooden benches, and sculptures. This design will please the visitors and passersby. 
Cottage-style gravel backyard
The cottage-style gravel patio has a cozy, unique charm, especially when matched with neutral-toned furniture. Place a weathered wood center table, a wicker sofa or chair, and a wooden daybed with a comfy cushion for social gatherings.
Make it colorful
Add a pop of color to the shady gravel backyard with lush green plants and colorful table linens. All these will make the area vibrant and full of positivity.
All white Low budget backyard designs with gravel
Enhance the look of the gravel patio with a timeless white color. To add further charm, have some shade-giving hedges around the walls. What an amazing bright patio to have a calm and soothing visual effect!
Firepit in the center

Read more: 5 Things to Consider When Buying a Fire Pit Online
For modern architecture, a classy firepit in the center of the gravel patio looks astonishing. This looks like a room rather than a patio.
Create a visual feast with ivy walls
Ensure maximum texture element to the patio using ivy, gravel, glass, or metal. The effect is a feast to the eyes.
Create a patio around the guesthouse
This is a seamless way to create a patio around the guesthouse. To add some vibrant color, keep some planters and chairs to enjoy the morning coffee.
Seamless extension of indoor decor to outdoor patio
What an awe-striking visual appeal! The outside patio looks like an extension of the house with an extra room. To add warmth, keep a comfy cushion and a blanket on the sofa for cozy chit-chat.
Comfortable seating arrangement
Create a distinct seating zone in the large gravel backyard-one merely for reading or to sink into thoughts and another to enjoy a sumptuous meal with dear ones.
Build a tank pool area
Make a shallow pool in the backyard using stone pavers, gravel, and a metal tank to serve a pool.
Brighten the space with lighting
As the sun goes down, enjoy the pleasant evening weather on the patio with soothing candles or string lights. 
Gravel backyard with large stone pavers
Design the large gravel patio with natural stone pavers for smooth walking from one end to another. 
Make a small breakfast corner
Why compromise on design due to space? Create a small corner to enjoy morning breakfast. If you love to work outdoors, place a chair.
Maintenance Tips For Gravel Backyards
Use a porous material in the gravel garden to avoid weeds

Use hardwearing chipping such as basalt, as it won't require regular toppings

Using a garden rake, rake the garden into rows for a sharp-looking garden

Blow away leaves from the gravel with a blower as leaves can cause discoloration to gravel

Regularly water your plants as lively plants will keep away the debris
Conclusion
Low budget backyard designs with gravel are a great way to add curb appeal to the backyard despite its size. It's an easy patio idea diy with affordable cost. Add a pop of sophistication to the backyard landscaping and relax after a daily routine schedule.
FAQs
What are the disadvantages of gravel?
The disadvantages of gravel are that it becomes dusty in dry weather, it is challenging to keep it clean during some weather, and it requires leveling at regular intervals for a tidy look.
What is the life expectancy of gravel?
The average life expectancy of gravel lies between 50-100 years depending on the weather and upkeep.
Does gravel attract bugs?
Not really, because there's no food source for bugs, so they stick around for last.